How to Remove Domino Security using Securase Software?
We have made our Securase software so simple to use that the process to remove Domino security would appear to be very easy for you, whether you are an expert at using the system or just a beginner with it. To make the picture much clearer to you and to avoid any type of difficulty to remove Domino Server security, we are giving here, the steps of Domino security removal using this Domino security remover. You can see the steps to remove security from Domino below:
Steps to Remove Domino Local Security
First, go to Start > Programs > Securase > Securase to open the initial software screen. Start-up Screen will appear as shown below: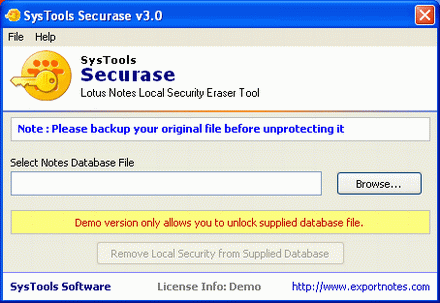 Now, click the 'Browse' button for locating the Lotus Notes Database that has local security settings
As you click the 'Browse' button, following screen will appear: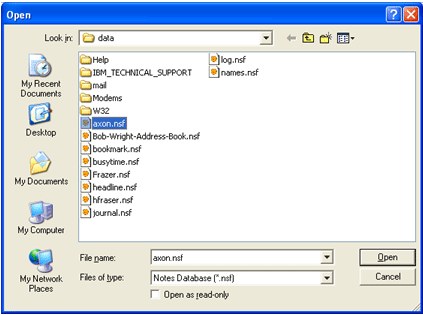 Here, select the NSF file and the 'Open' button. Software then displays the screen as shown below: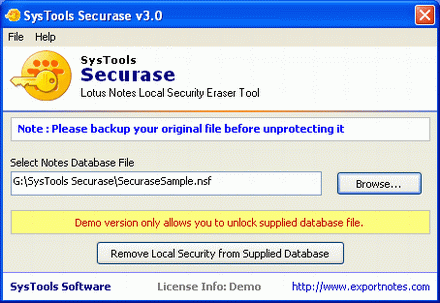 After that, click the 'Remove Local Security' button. You will be asked whether you want to remove NSF local security or not, as depicted below in the screenshot underneath:
Then, choose 'Yes' if you want to remove Local Security of Lotus Notes Database, otherwise choose 'No'. On clicking, Yes, software will display the screen showing successful removal of local NSF security as shown below:

After using software, what to do with the output? After removing NSF database security, you can easily open that NSF file with Lotus Notes application.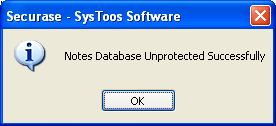 Easily Open Lotus Notes Files.
After using software, what to do with the output? After removing NSF database security, you can easily open that NSF file with Lotus Notes application